re-NATURE, between heritage and nature
be-MINE may be an old industrial site, yet nature is not far away here. The underlying terills and grounds alone are a true attraction for plants and animals. But also on the site, much of the focus is on attracting and nurturing nature. We do this with a special approach, adapted to the uniqueness of the mine site. We have given that approach a name: re-NATURE.
re-NATURE puts local nature first and ensures that it has every opportunity to allow the planting, which is peculiar to the very specific subsoil of the site, to flourish. The end picture is pursued primarily through targeted management that helps guide nature, rather than furnish it. Diversity here is the key concept to success in the re-NATURE principles and is achieved by creating diverse conditions, many edges and transitions.
The subsoil of be-MINE is a combination of construction debris, the original sand and clay soils and the remains of mine debris. That stony material makes conditions harsh for plant growth. Nevertheless, quite a few vegetation types have established themselves on be-MINE. Due to the extreme conditions in which they grow, these are exceptionally strong plants.
The subsoil is also loosened and mixed, allowing for root growth and infiltration of rain. Thus, natural processes are given every opportunity to occupy the space.
In short, there-NATURE principle is ingrained in the vision of be-MINE.
Furthermore, we are also committed to the Blue Deal, after all, be-MINE has been an example of water capture and buffering in the form of WADIs and play basins since the very beginning. The green space already acts today as a large sponge that can regulate the water balance both in drought and in heavy downpour outside; however, this is integrated in such a way that they are landscape play elements.
Thus, rainwater is an indispensable element in obtaining diversity. The park, which also acts as a sponge, provides buffering and infiltration across the site.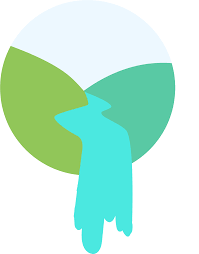 Wadi structures and infiltration zones.
To combat prolonged droughts, several mudflat structures and infiltration zones are also provided throughout the park. These are subtly provided with a different type of vegetation that is also well armed against wet feet. These are complementary to the already existing wadi effect of the area and increase the maximum buffer to water capture. Both systems have educational value, as they visually represent the relationship between climate and public space. In addition, they also provide a dynamic play in the landscape. Depending on the seasons and weather conditions, the Railway Park takes on a different appearance, a different emotional value.